Partnering

with Hawaiʻi for 30 years.

As Hawaiʻi accelerates its transition to a 100% renewable future by 2045, we're partnering with utilities, communities, landowners and customers to deliver greener, smarter energy solutions and help ensure a responsible and equitable transformation to clean energy.

Hawaiʻi is the nation's most dependent state on imported fossil fuels, making its clean energy targets all the more critical for supporting the state's economy, the environment and energy security. Working together with local leaders and utilities at the forefront of the clean energy transition like Kauaʻi Island Utility Cooperative and the Hawaiian Electric Companies, we're developing innovative, renewable energy solutions that will accelerate Hawaiʻi's energy transition while delivering affordable, reliable electricity to serve customer needs across the state.
Supporting Hawaiʻi's transition to a carbon-free future.
Since the 1980s, our people have worked passionately to meet Hawaiʻi's growing energy needs. The 180 MW Barbers Point coal-fueled power plant on O'ahu began operations in 1992. For 30 years, the plant has delivered safe and reliable energy, providing up to 20% of the island's energy needs at the lowest cost to the community. The plant retired on September 1, 2022 and represents a significant milestone for Hawaiʻi and AES on our paths to decarbonization.
AES Hawaiʻi is committed to supporting the state to accelerate and responsibly transition toward a carbon-free energy future with a vast pipeline of renewable projects across the islands, totaling over 200 MWac of solar and wind resources in operation or development. Working together with the State of Hawaiʻi and local utilities, we are co-creating solutions that support its renewable generation goals as well as efforts to stabilize rates and increase system reliability. Our operating projects are available to provide critical power when it's needed most, and our renewable energy projects under development will contribute toward the state's goal of 100% renewable energy.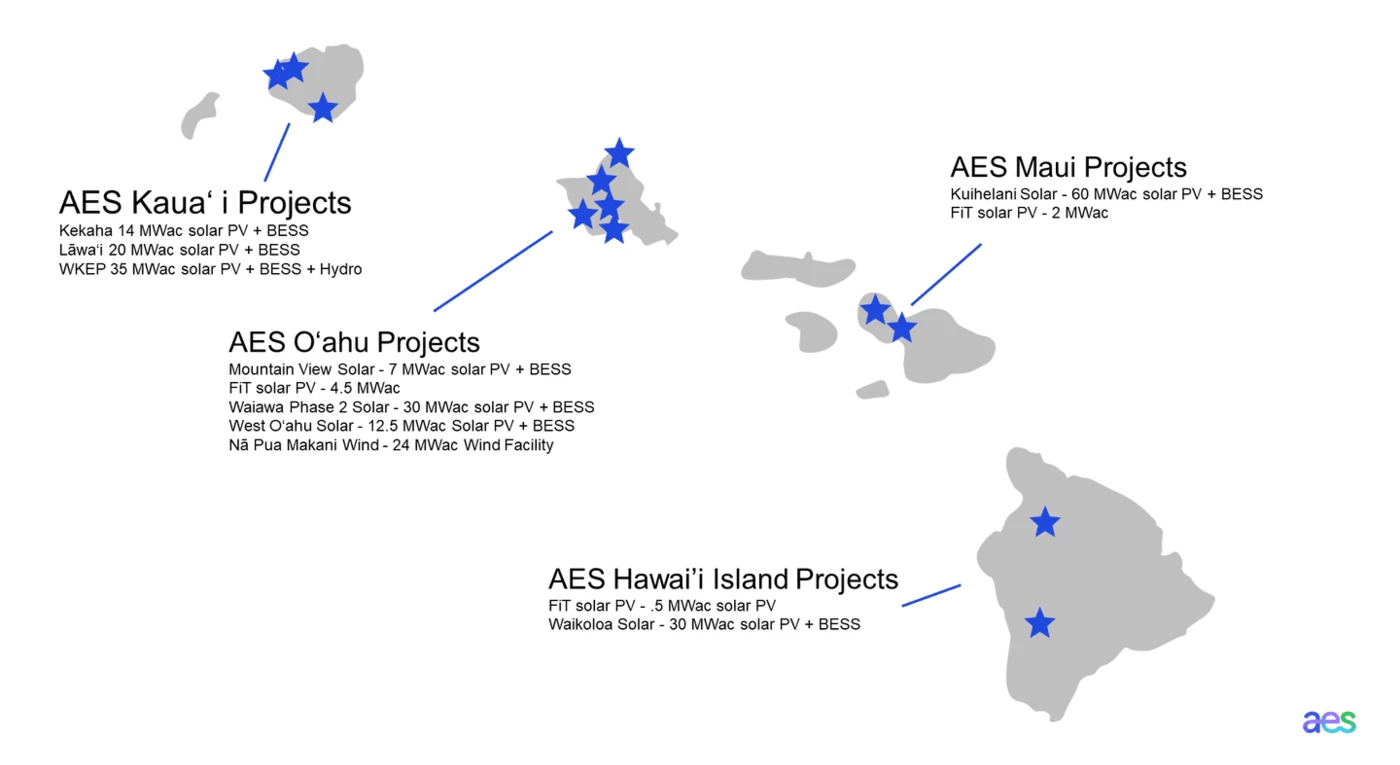 About us
Together, we are accelerating Hawaiʻi's renewable energy future.
Since the 1980s, AES has provided low-cost energy to Hawaiʻi, serving as a partner with Hawaiian Electric and other utilities to provide the energy and infrastructure solutions Hawaiʻi needs. Across the state, we're helping Hawaiʻi accelerate its transition to 100% renewable energy through more than 200 MWac of clean energy projects safely harnessing the natural power all around us.
We continue to look for opportunities to help Hawaiʻi reach a greener future and diversity in its energy portfolio to meet our islands' energy needs, and we are committed to being a part of what's next for Hawaiʻi and building a brighter, more sustainable future for the next generation.

In 2018, the Hawaiian Electric Companies awarded AES three projects totaling 102.5 MWac solar PV + 410 MWh battery energy storage systems. This portfolio includes a project on O'ahu on approximately 96 acres of University of Hawai'i West O'ahu's mauka lands adjacent to Makakilo.
Location: 
Kapolei, HI
Partner: 
Hawaiian Electric Company (HECO) and University of Hawai'i West O'ahu
Project name: West O'ahu Solar + Storage project
Project stats: 12.5 MWac Solar PV + 50 MWh BESS
As a partner to the University of Hawai'i West O'ahu, AES worked with the University to provide a holistic solution to a number of challenges. The 12.5 MWac PV + 50 MWh BESS project aligns with the University's policies and helps contribute to sustainability goals, advances local agriculture through partnerships with local agricultural operators, and provides a valuable source of revenue to the University.
Location: 
Lāwa'i, HI
Partner: 
Kauaʻi Island Utility Cooperative (KIUC)
Project name: Lāwa'i Solar + Storage project
Project stats: 20 MWac Solar PV + 100 MWh BESS

In January 2019, AES and Kaua'i Island Utility Cooperative (KIUC) commissioned what at the time was considered the world's largest solar PV + Battery Energy Storage (BESS) facility, the 20 MWac PV + 100 MWh BESS Lāwa'i facility on Kaua'i. We worked closely with the community and the landowner to successfully develop the facility, which delivers up to 11% of Kaua'i's energy needs and helped KIUC surpass its goal of 50% renewable energy generation four years ahead of schedule.
Location: 
Kahuku, HI
Partner:
Hawaiian Electric Company (HECO)
Project name: Nā Pua Makani wind farm
Project stats: Wind facility with 8 turbines -  24 MW

Nā Pua Makani is a wind energy facility in Kahuku that harnesses the plentiful wind resources of O'ahu's North Shore and converts them into renewable, sustainable energy for the island. The facility includes 8 turbines, each about 568 feet from the base to the tip of rotors, and is able to generate enough electricity to power approximately 16,000 homes annually.
Location: 
Kekaha, HI
Partner: Kauaʻi Island Utility Cooperative (KIUC)
Project name: PMRF microgrid
Project stats: 14 MWac Solar PV + 70 MWh BESS
AES partnered with KIUC and the US Navy to meet the Navy's energy renewable, reliability and resiliency goals. The result was a design for a 14 MWac solar plus 70 MWh battery energy storage system sited on the US Navy land which during typical operation will feed the local grid. The project also features a micro-grid functionality which will immediately switch to providing the Navy base local stable renewable power in the event of a grid outage.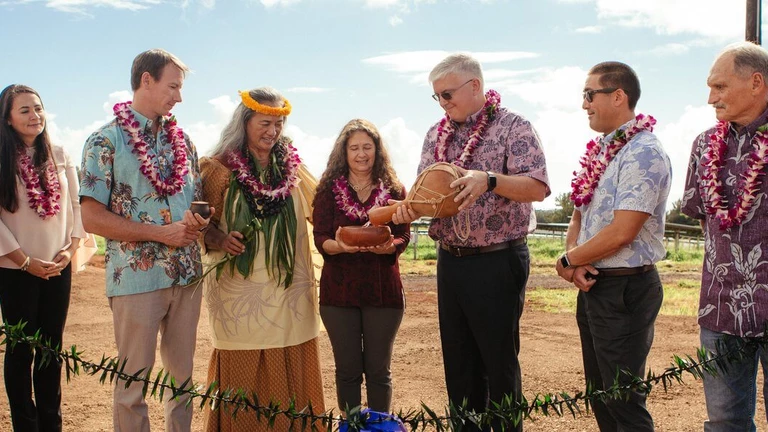 Community impacts
AES Hawaiʻi is deeply committed to improving lives by accelerating a 
safer and greener energy future

.

AES Hawaiʻi is deeply committed to improving lives by accelerating a safer and greener energy future.

AES Hawaiʻi strives to be a trusted partner and actively invested member of the communities we serve. We understand providing safe, reliable, and sustainable solutions is key to improving the lives of the communities where our businesses operate. In Hawaiʻi for example:
AES Hawaiʻi's renewable projects will contribute to the reduction of over 175,000 Metric Tons of CO2 annually and will offset in excess of 15.2 million barrels of fossil fuel over the projects' lifecycle.
Over 120,000 households will be served with clean, low-cost energy from AES' renewable projects in operation and under development in the state.
AES Hawaiʻi has committed more than $5 million toward community development through contributions and matching funds.
AES Hawaiʻi has partnered with local non-profits to support community partnerships, including disaster relief, recovery efforts and COVID- 19 relief initiatives. 
AES Hawaiʻi supports education through STEM scholarships and educational outreach programs.
AES Hawaiʻi partnered with the Public Land Trust and Mālama Hulē'ia to support areas of cultural and environmental significance.
AES Hawaiʻi is committed to aligning social investment programs with diverse Sustainable Development Goals set by the United Nations and Hawai'i to foster quality education, decent work, economic growth through skills training and learning opportunities, affordable and clean energy, life on land and partnerships through collaborations with local business organizations, non-profits, government agencies, high schools, universities and trade schools.
Accelerating an equitable transition to a renewable future.
Working together with landowners, we ensure our renewable solutions are not only responsibly designed to complement the natural environment but enhance it by supporting agriculture, food security and native plant and animal habitats. Our renewable energy agreements with local utilities span a 20-25-year period, enabling landowners of the project sites and local economies to benefit. AES Hawaiʻi supports landowners through guaranteed lease payments for the duration of the project's life. In some cases, landowners also benefit from agreements with local businesses for compatible agricultural and vegetation management activities. At the end of a project's lifecycle, it will be decommissioned. The land will be returned to its existing condition, allowing the landowner the full use of the property.

As an example, the Lāwa'i Solar and Storage project is situated on 150 acres of land designated as Agricultural Land (AIL) by the State of Hawaii, which requires solar projects to maintain a secondary agricultural use for the land. The site is also home to Guinea grass, an aggressive and non-native grass reaching heights of over 12 feet and is not easily controlled with traditional vegetation management methods. To meet the state's AIL requirements, the site is home to more than 300 sheep from nearby Omao Farms that maintain vegetation at the solar facility through managed grazing. Co-locating sheep among the solar panels is a mutually beneficial solution that supports the generation of clean energy and the growth of local agriculture by providing good pasture lands for grazing. Over the project lifetime, the sheep will also save millions of dollars in labor costs, avoid the use of fossil fuels and herbicides used in traditional maintenance methods, and prevent PV panel damage from mowing and weed growth.
Our projects
AES Hawaiʻi is committed to being an active, investment member of the communities we serve. We aim to utilize our projects to invest in the communities where we operate. The stable tax revenue generated by each of our projects fund county services such as education and municipalities. On top of this, we have worked hard to bring community benefits through employee volunteerism, donations and meaningful partnerships.
Operational
| Project name | Location | System type  | System size (MW ac) | Project webpage |
| --- | --- | --- | --- | --- |
| Lāwa'i Solar + Storage | Lāwa'i | Solar + BESS | 20 MW + 100 MWh | |
| Nā Pua Makani | Kahuku | Wind | 24 MW | |
| AES PMRF Solar + Storage | Kekaha | Solar + BESS | 14 MW + 70 MWh |   |
| HELCO AES Waikoloa Solar | Waikoloa Village   | Solar + BESS | 30 MW + 120 MWh | |
Under development
| Project name | Location | System type  | System size (MW ac) | Project webpage |
| --- | --- | --- | --- | --- |
| West Kaua'i Energy Project | Kekaha | Solar + BESS + Hydro   | 35 MW + 70 MWh |   |
| MECO AES Kuihelani Solar | Waikapu | Solar + BESS | 60 MW + 240 MWh | |
| HECO AES West O'ahu Solar   | Kapolei | Solar + BESS | 12.5 MW + 50 MWh | |
| HECO Waiawa Phase 2 Solar | Pearl City | Solar + BESS | 30 MW + 240 MWh | |
| HECO AES Mountain View Solar   | Waianae | Solar + BESS | 7 MW + 35 MWh | |