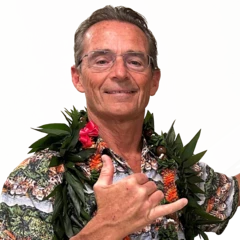 Patrick Murphy
Vice President and Site Lead for Barbers Point facility, AES Hawai'i
Patrick Murphy is the Site Lead and Vice President for AES Hawaiʻi's Barbers Point facility where Patrick and his team are responsible for the safe and successful dismantling of the Barbers Point facility.
Patrick joined AES Hawai'i in 1991 as a Maintenance Technician and trained to support the startup and operations of Barbers Point. Patrick worked his way through the ranks, culminating in the role of President and General Manager from 2001 – 2004.
Prior to his career with AES, Patrick worked with Propulsion Control Engineering, a private ship repair facility, on the island of O'ahu. From 1983 -1987, he worked for Electric Boat Division, General Dynamics in Groton, Connecticut as an Outside Machinist supporting construction of the US Navy Trident Submarine fleet. Patrick joined the Navy in 1978 and served until 1983 where he received the necessary foundation and practical experience that led him to the power generation field. Patrick worked at a sawmill in a lumber yard for a period prior to joining the US Navy.